Port of an original Post from November 19th 2007.
No doubt the announcement will be made by the time you read this, but it seems that Newsweek is going to be coverign the release of the Amazon Kindle, with a cover article featuring it and Jeff Bezos.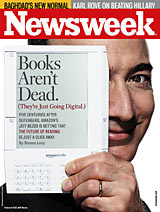 NOTE: that cover page has red text on the Kindle display but it's a monochrome E-Ink display.

Some more Kindle details from the article:
* 6-inch E Ink screen
* Price: $399
* weighs 10.3 ounces
* 30 hours of reading on a charge, and recharges in two hours
* has a "sleep mode"
* built-in memory holds 200 e-books
* allows searches within e-books
* wireless capability through "Whispernet" (based on EVDO) which extends the Amazon store
* "buying a book with a Kindle is a one-touch process."
* Over 88'000 e-book titles will be available on launch
* NYTimes bestsellers priced at $9.99
* First chapter of almost any e-book for free
* Available newspaper subscriptions: the Times, The Wall Street Journal, The Washington Post, Le Monde
* Available magazine subscriptions: The Atlantic
* Subscriptions to blogs also cost you something!
* Lookup features for Wikipedia, Google Search
* Private Kindle e-mail addresses to communicate with other Kindle users
* Development of the Kindle began in 2004
Here are a couple of discussion threads from MobileRead one, two