Original Post from April 8th 2008.
The potentially very interesting "Electro-wetting" display technology (high brightness, good color, fast, low-power) is back in the news this week thanks to some PR pushing from LiquaVista the Philips spin-off that's pursuing it.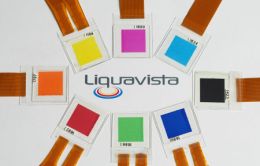 MobileRead forums cover it here, but in fact it seems to me much less of a piece of technology news, and more driven from the fact they have got their next round of funding ("completion of an €8 million Series B fund raising") to pursue it, announced in their press release.
One thing they touch on is the ability to chose the dye color that goes in the oil, and that they could match this to the product color. I see this as furthering the ability to make a display form part of a product/object design and to "melt into" the shape with no clear border where the display start and the "casing" ends, and vice versa.
The product that called my attention to this design style was that old Sony MP3 player....


but you'll now see it in other products too, and who know....maybe someday furniture, cars, etc...
If you are interested in the principles of operation of the technology they have a reasonable white paper describing it (PDF) on their web-site. Go to their download section for other papers too.