Original Post from January 14th 2008.
At CES recently there have been a few demos and things around eBooks, but nothing massive.
Here is a short news item about a concept that iRiver showed for an eBook. (Engadget version here)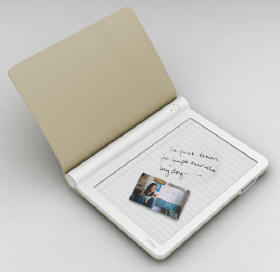 but there's not much more to it than the image shown.
If anything the most interesting things is that iRiver continue to play with ideas in the eBook space and so maybe enter it at some point in the future.
I'm interested by the idea of packing electronics into a cylindrical spine area, to reduce the thickness (and weight) of the page area. I think I'd need to hold it for a while and use it to read to see if that's actually better ergonomically.
This is not iRiver's first showing in the eBook area as they also showed this two-display concept a year ago.


that never made it to market during this year. See the original article on that demo here at Engadget.