Original Post from May 15th 2008.
On the Mobile Read forums (here) there is an explanation of the update to the Cybook (from Bookeen) to bring it to generation 3 already.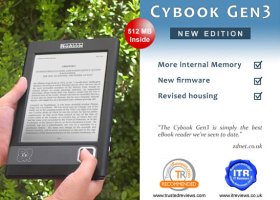 There is a firmware update (also applicable to the existing, Gen 2, device) and a product design refresh although with only small changes it seems.
More internal memory: the Cybook internal memory reaches 512MB now (480MB is available for storage)
A new firmware: Firmware 1.1 offers more stability, a longer battery lifetime and a more reactive button interface (the upgrade is also available for the original Gen3)
A revised housing: the navigation button offers a soft hand feeling with a tactile feedback
Prices remain the same (Standard $350, Deluxe $450).
The Future of Things blog has a more extensive, hands-on, review here.
Their website claims "the Cybook becomes the thinnest, lightest device with the largest storage capacity on the market.", which maybe true - but it must be a close run think with all those look-alikes to this basic design appearing....more of them to come in subsequent posts.