Original Post from March 18th 2008.
Another post from MobileRead forums here about getting MobiPocket eBooks onto your BlackBerry.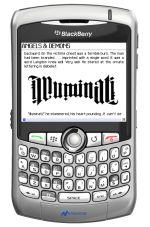 Prompted by a push for eBooks on the device, via the free MobiPocket Reader SW for the BlackBerry, on the MobiPocket website for their "OTA (Over the Air) Bookstore". See that web for details and screen shots.
I quote:
"Do you read emails on your Blackberry? Why not read ebooks and enews? Download the free Mobipocket eBook Reader on your Blackberry, and enjoy the reading experience. The online eBookstore is also integrated: find and start reading your favorite stories 24 hours a day, 7 days a week, straight from your Blackberry! Read on and discover how your Blackberry can become the ultimate ebook reader."

Sound familiar? Kindle-like? No surprise, knowing that MobiPocket is owned by Amazon. An example of them playing both sides of the game Open vs. Kindle.