Original Post from October 31st 2007.
As you may know, BridgeStone (yes, even those guys doing tires can do this stuff!) have a bi-stable electrophoretic display (EPD) technology in many ways similar to E-Ink, called "Quick Response Liquid Toner" (QRLT) that they claim is faster than E-Ink.
They are working with Hitachi in Japan to take it into signage.

At the Flat Panel Display (FPD) 2007 show recently they have shown a color (4096 colors) display of A3 (B-size) size. Don't be confused by previous photos of BridgeStone displays showing color, they were two-color (e.g. Black&White, or Red&Yellow) displays. This is the Black&White display with a color filter on top (RGB, or maybe RGBW).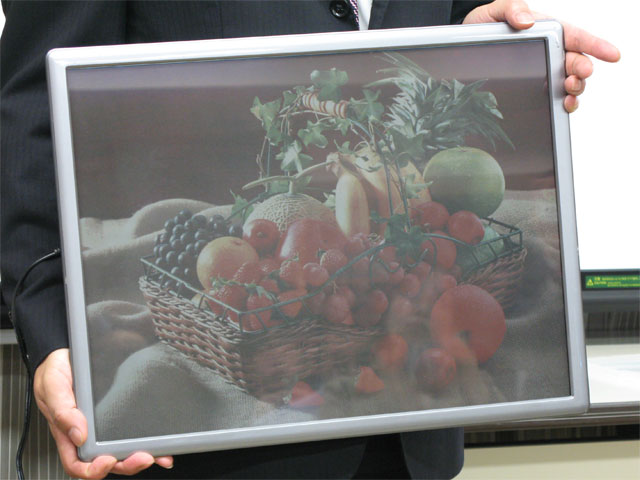 Quote:
"Bridgestone Japan has developed an A3 sized color electronic paper it was showcased at the FPD International 2007 exhibition held at Yokohama. The A3 sized electronic paper has a display area of 435 x 326mm and can display 4096 colors at 80dpi resolution. The display makes use of QR - LPD (Quick-Response Liquid Powder Display) which the company has been developed over the years. The charged particles repel each other delivering a response time of just 0.2 mini seconds. Apart from being the biggest the electronic paper is also the thinnest in the world at just 0.29-millimeters."
Here's an image that seems to show another version of edge on, it's VERY slim.