Port of original Post from September 25th 2007.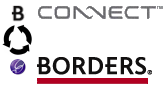 See the press release from Sony and Borders that explains the expansion of their existing collaboration (Borders stores sell Sony PRS eBook reader).
"Borders today announced it has signed an agreement with Sony that expands their existing relationship for the sale of the Reader Digital Book, and includes a new, co-branded version of Sony's online store for e-book downloads expected to be launched in October."
People are speculating that this will start with the new Sony PRS eReader that's due and hence it will be introduced in October in-time for holiday season. Could be, but as Borders sells the existing Sony eReader I don't follow the logic exactly.
The creation of a Borders co-branded eBook store "with support from Sony" (I presume that means an agreement so they can produce DRM-ed eBooks in Sony's BBeB format? Who knows they could go with the epub format supported by Adobe Digital Editions that people rumor Sony's new reader will support) is an interesting one, and surely indicates Borders will be sharing eBook revenue with Sony in exchange for being a retail outlet for the reader?
Borders will be marketing the eBook reader and the eBooks to it's customers in-store, but also in it's newsletters and direct (e-mail) mail.
Border does have the book reading customers that Sony is after.
See the MobileRead blog entries on the subject here and here.